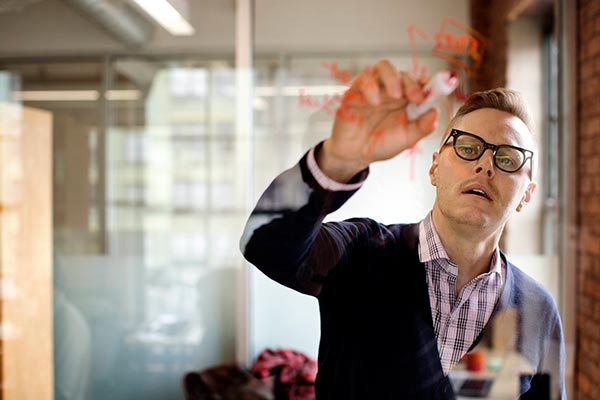 By now, you're probably all too familiar with contactless payment methods like NFC enabled credit cards and mobile wallets, such as Apple Pay and Google Pay. But what if we told you that you could make your in-store payment process even easier for your customers? In fact, what if they could authenticate payments in the blink of an eye — or better yet, with the blink of an eye?
That's exactly what OP Lab set out to test with their brand new Pivo Face Payment pilot.
Taking a page from Airbnb's book
As Sami Karhunen, Development Director at OP Lab and the visionary behind the Pivo Face Payment pilot explains, when it comes to in-store experiences, there are generally two things that cause friction for the customers:
Finding everything they need

Paying for the things that they've decided to get
The goal of the pilot, of course, was all about reducing the friction associated with the second step. And to do that, one fundamental thing had to change:
"We set out to replicate Uber and Airbnb's payment logic in an in-store environment. So instead of handling the whole payment process at the register, we focused on only covering payment confirmation," Karhunen explains.
The pilot program in practice
While Alibaba in China and Lloyds Bank in the UK have been experimenting with facial recognition software for some time now, OP Lab was the first to test a similar approach in Finland. And to get the experiment up and running in just a few months, the pilot was organized at OP headquarters' Antell restaurant, and participation was restricted so that only OP employees could take part.
Here's how it works:
OP employees download a smartphone app that allows them to save their credit card details and a biometric template of their face

Next time at the restaurant, OP employees can confirm their payments by simply standing in front of the tablet (and possibly blinking their eyes a few times so that the system knows that they're a real person rather than a picture or a mask)

Before charging a credit card, the tablet will prompt the customer to accept the final sum on the screen
The best part? Each transaction takes about 7.5 seconds, which is considerably less than using a mobile wallet or a contactless credit card.
The technology behind Pivo Face Payment
To create a seamless, Uber-like payment experience, the OP Lab team built a custom solution that combines a variety of technologies:
A secure third-party software that scans people's faces and turns them into biometric templates, each consisting of 200 minutiae data points

A custom mobile application for storing credit card details and the biometric templates

A custom in-store application that runs on a locked tablet with a front-facing camera, which OP employees can use to pay for their purchases at the office cafeteria

Payment Highway for processing payments
As Karhunen explains, "replacing clunky payment terminals with a tablet made sense because people are so used to touch screens. We believe that in the future, payment terminals can be bypassed altogether because they integrate poorly with other in-store systems."
Ultimate convenience and security with Payment Highway
To allow the pilot participants to store their card details in the custom mobile app, OP Lab used the Payment Highway API. With the integration in place, the participants only had to use the application once: to punch in their card details and to allow the facial recognition software to create a biometric template of their faces. After that, their faces and the in-store app would take care of the rest.
The backend solution that powers the frictionless in-store experience was created with the help of card tokens and the Payment Highway API. By tokenizing the users' card details, OP Lab made sure that the pilot participants' cards were secure and would be charged in the background once the buyer's face was recognized.
Towards a frictionless future
While Pivo Face Payment isn't quite ready for production yet, the early feedback has been overwhelmingly positive.
"Only one person out of our 200+ pilot participants have said that they wouldn't use Pivo Face Payment again," Karhunen sums up.
"At this point, the first commercial execution is only a matter of time — and demand. The idea of the pilot was to rapidly test our hypotheses. Now that we've got the first round of feedback, I'm pretty confident that we can bring Pivo Face Payment to a wider audience. During the pilot we'll also test new features to add several security layers into the background."
If you're interested in building a frictionless payment process in store or into your app or website, feel free to get in touch.