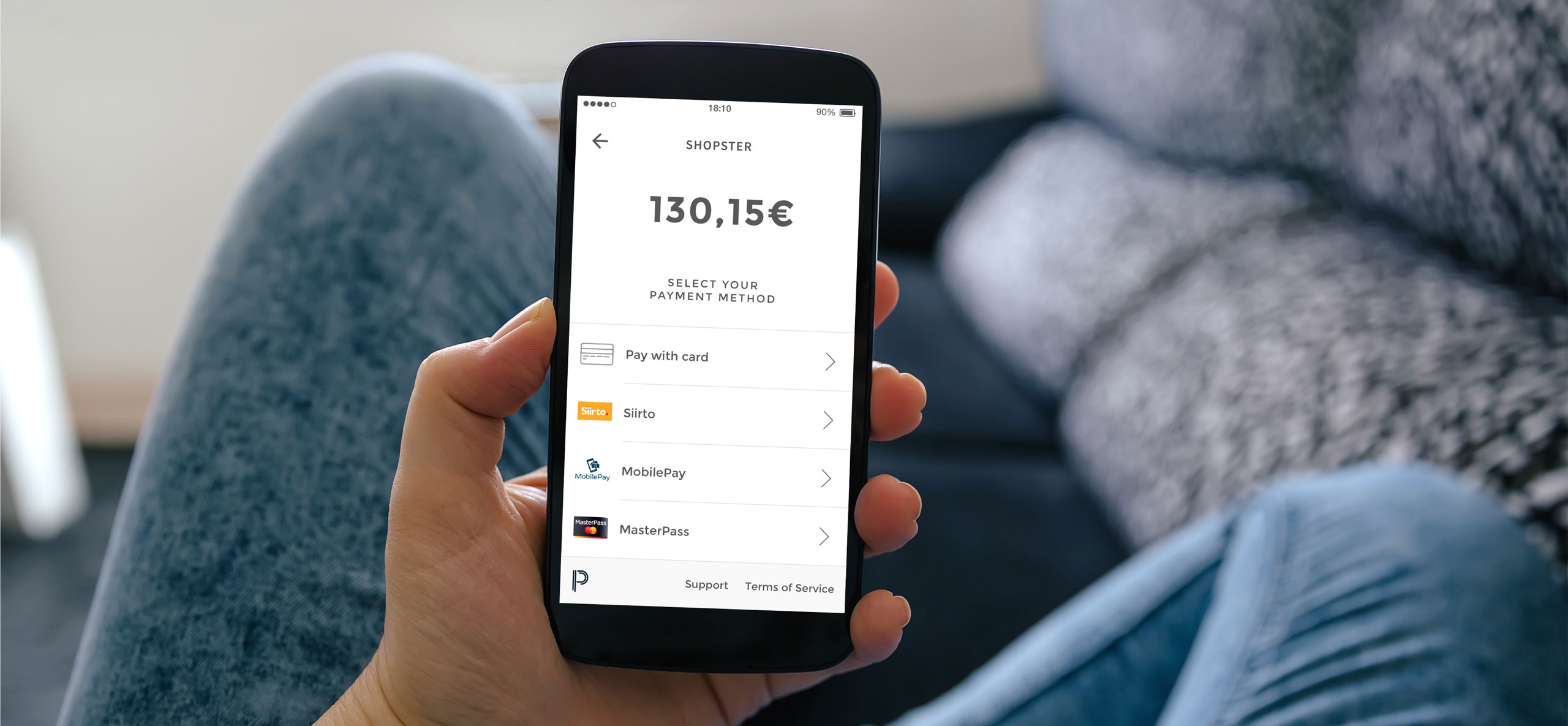 When you're buying items or services, paying tends to be an annoying mandatory step in the process. As such, it can have a huge impact on conversion and return rates.
Customers often keep second guessing their decisions to the very end, resulting in abandoned shopping carts. Alternatively they might find it too difficult to pay for the services, which definitely will not be attracting them back the next day. Therefore the entire experience should be as smooth as possible.
Payment Highway provides merchants and service providers with a superior toolset to combat this dilemma. In this post we will explain how. The following methods are based on globally accepted card payments, but will not be limited to these in the future.
Payment and card registration forms
Whether the customer is typing in payment details for a single purchase or card registration, the experience should be as frictionless as possible. This can be achieved by embedding the card forms as a part of the service and customizing the looks and colors to match the merchant's style. The idea here is to keep the payment as similar and connected to the rest of the purchasing process as possible. This can be easily achieved in both traditional web stores and services, as well as mobile applications.
One-click payments
When submitting a shopping cart or buying a ticket for public transportation, the payment process for returning customers can be as easy as clicking a single button. In order to accomplish this, the customer's card number will be securely captured and stored either when paying for the first payment, or during the user registration. Especially on mobile applications the latter is often used.
Returning customers will not need to input any payment details again, resulting in an super easy checkout and customer satisfaction. A small percentage of payment cards do not support payments with stored card numbers. This can be really awkward, when the cards do not actually work when it's time to pay.
Payment Highway has a neat feature to detect problematic cards and inform the cardholder directly with a suggestion to use another card, thus reducing confusion and increasing conversion. For merchants who still want to accept these cards, we have developed an easy-to-use form, in which the cardholder only needs to type in the 3 to 4 digit CVC2/CVV2 secure code.
Recurring or subscription based payments
Often service providers need to bill their customers on a monthly or even daily basis. Once the customer's card is stored, it can easily be charged at any interval and amount. Such services include, but are not limited to, video streaming services, public transportation tickets or gym subscriptions.
Invisible or triggered no-click payments
The ultimate user experience is when the customer does not have to think about the payment at all. These are called invisible payments, which are automatically triggered in the background by some event. The event could be, for example, leaving a grocery store, finishing refueling your car or just stepping out of a taxi. All the required information can be acquired from e.g. location of the phone (GPS, Bluetooth, Beacons), license plate recognition, biometrics, etc. There are infinite possibilities to making your customer satisfaction sky-rocket and making your service truly unique.
Digital or mobile wallets
Digital wallets provide the card holder with a safe and familiar place to store their payment details in. The major advantage here is that the information only needs to be given once and can then be used for any variety of supported unrelated services and web shops or even physical brick & mortar stores.
The payment is typically securely confirmed via a trusted mobile application, making fraud almost impossible. With Payment Highway it is extremely easy to start accepting Apple Pay, Danske Bank's MobilePay and Mastercard's global Masterpass. Masterpass also supports the selection of the shipping address, making it possible to create true one-click checkouts even for new customers. It can also be used to initiate subscription based or invisible payments.
Summary
By being creative and using the right tools for the right services, you'll be able to offer superior user experience to your customers. Getting started with Payment Highway is fast and easy with our SDKs, API documentation and free-to-use Sandbox!
If you have any further questions regarding payment methods or how to improve your services, feel free to contact us.